Hi! Call me late to review Precious Mineral BB Cream All Day Strong since it's discontinue product which is replaced by Precious Mineral BB Cream Bright Fit (I'm gonna review it as well). Hehe... :D But never mind, it's gonna be worth it to review in some ways. And this time I'm gonna show you the review of Precious Mineral BB Cream All Day Strong #1 Sheer Silky Skin that is aimed for oily skin, my skin type. Oh ya, I've been trying out the sample size in which the sachet shape is like seashell, so cute.
no flash
with flash
no flash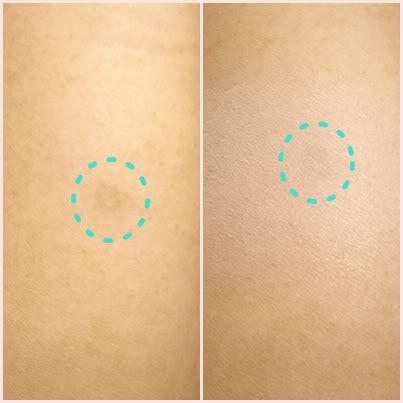 with flash
PROS:
SPF30/PA++, high SPF means it protects you from harmful UV rays.
It whitens your face and prevent or/and care wrinkle. Instantly make your face white if you truly desire to brighten it up.
Medium coverage. You see the pic, there's a dark spot on my skin, then I tapped this BB cream over the dark spot, and voila! It covers the spot pretty nice.
Waterproof.
Staying power for 4-6 hours.
Oil control is slightly great. After 4 hours, the sebum just appeared around T-zone, my very oily skin either the cause of fast production of sebum.
No fragrance.
Promote dewy finish. You can set it with powder or not, it will never give you cakey face.
CONS:
The full size is pricey.
High SPF is not suitable for night events and photo session because it makes your face totally white like a ghost.
Greyish tone. Super whitening effect. I personally don't like it because, to me, my face becomes so unnatural as usual.
That's the review, hope it helps you the readers.. Muah :*